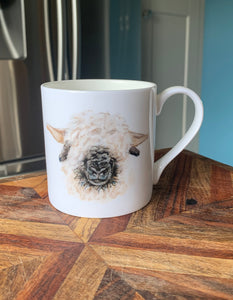 A striking mug featuring one of my original paintings.

The mug recreates my love of wildlife.This is a quite a common scene in rural Northern Ireland.The aim in my drawings is the capture the reality and the characteristics of the animal.I work from photo reference but I feel you always need to experience seeing the animal in real life in order to create the best painting possible.

A great gift especially for any wildlife lover.

made from:
Ceramic. The mug is dishwasher proof. The mug is generously sized and glazed to a very high quality.

dimensions:
Height 9.3cm Diameter 8cm

My placemats/coasters are made of heat-resistant hardboard surface with gloss finish featuring one of my original paintings. Placemat Size: 9" x 7.5" ( 23 x 19 cm) Coaster Size: 3.5" x 3.5" (9 x 9cm) with rounded corners. The design is protected with a high-quality gloss finish which makes the coasters easy to keep clean. They are perfect for a country home gift or you can keep them for yourself for a stylish touch in your home. Being born on a farm in rural Northern Ireland has inspired me to paint farm animals using soft pastels which brings the animal to life. My artwork is then transferred by myself onto coasters and placemats. These are printed with a high gloss finish and water-resistant ink.