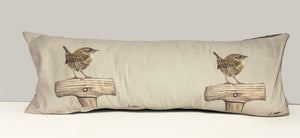 This is one of my range of oblong cushions featuring one of my original artworks and printed on to a soft luxurious fabric accompanied by a dark suede fabric on the reverse.
Thes can be used both as a lumbar cushion or as a draft excluder.
Designed and printed in Northern Ireland.

Grace Scott Art